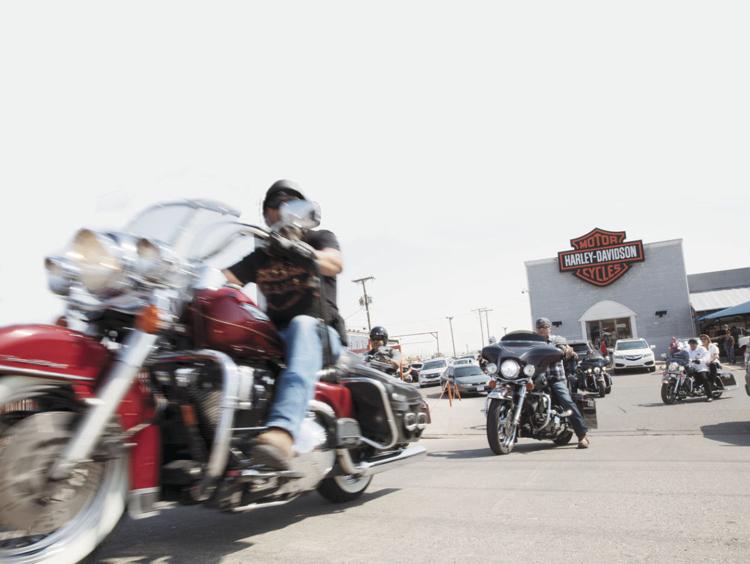 The bikes rumble to life, their engines emitting a bull-throated roar that sends vibrations from the soles of your feet to the tip of your scalp. And the thunder of a Harley-Davidson motorcycle can make your ears look around for protection. "There's no sound quite like it," says Olga Pate, a 57-year-old grandmother and member of the El Paso chapter of the Harley Owners Group, or HOG. She's also an officer of the chapter's Ladies of Harley division.
Astride a two- or three-wheeler, HOG members say their idea of heaven is cruising back roads across the nation and around the globe. They might also convince you that William S. Harley, and brothers Arthur, William and Walter Davidson Sr. – the early-1900s founders of Harley-Davidson – merit sainthood.
But before we hit the road with the HOG, a few ground rules: You don't "drive" a Harley, you "ride" it. "Wind therapy" is a good thing. "Dropping the bike" happens to every owner. Anyone one can look cool in leather, boots and helmets, regardless of age. And it's a "group," not a "club." Ready? Kickstands up? Let's ride!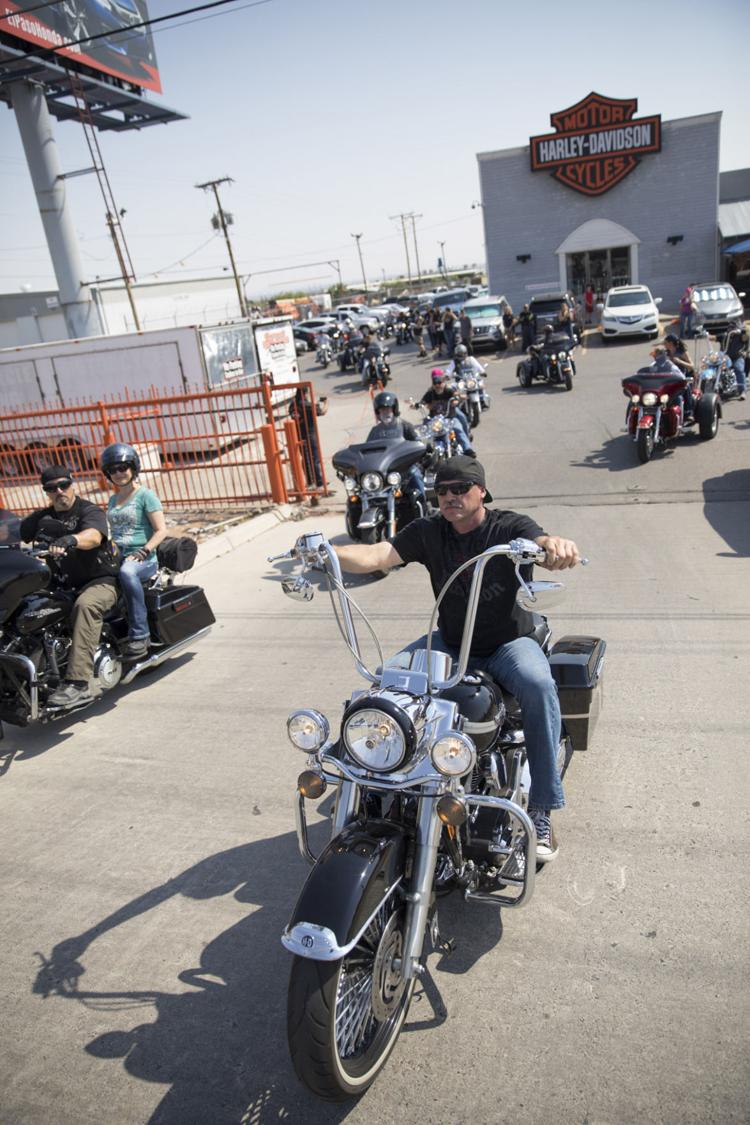 The pure, shackle-free bliss felt aboard a Harley is cherished by HOG members. As Joe Lloyd, a charter member of the local chapter, puts it, "You get a sense of liberty, unrestricted joy and freedom." Lloyd, 48, has lived in El Paso for more than 20 years and worked as a nurse at William Beaumont Army Medical Center since 1994. Growing up in California, his first motorcycle ride came at age 17 when he stole – make that "borrowed" – a Honda bike owned by his mother's boyfriend.
"I'd ridden dirt bikes, but this was the first time I'd ridden a street bike," Lloyd says. "This was kind of my leap to street bikes; I rode it up and down the beach. It was a nice summer day – and I just remember the openness, the wind and being out in the elements."
He bought his first bike, a Honda, in El Paso in 1998. Lloyd had wanted a cruiser-type bike but wasn't lusting after a Harley just yet. That changed with the first of seven Harleys he's owned since then, starting with the Night Train he bought at Barnett. Wishes he still had it.
"It was one of those bikes that had that aggressive look to it," he says. "But they discontinued that model."
He now roars along astride a 2003 Road King with 30,000 miles on it, to and from work several times a week. Lloyd became a charter member of the El Paso HOG chapter after the Barnett dealership offered a series of rides. He's made two round trips to the annual Sturgis Motorcycle Rally in South Dakota, and one time kicked his machine up to "100 mph-plus" on a stretch of road on his way home from Ruidoso. "I'm not a speed merchant," he insists.
Still, barreling along on a motorcycle must be invigorating, right? "Well, it's tough to describe," Lloyd says. "Everything you pass just goes by faster." Worst weather to ride in? "Wind and dirt – you get that sandblasted feeling."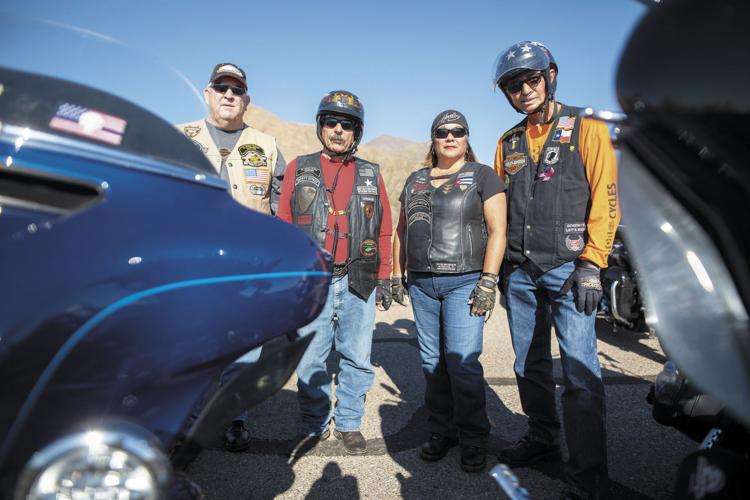 El Pasoan Phil Gonzalez, 65, is back home in El Paso after a career with the IRS. He bought his first motorcycle, a Yamaha, in 1975 while studying at UTEP. Work, travel, marriage and family kept him bikeless for the next 30 years, but he wanted to get back on the road. Ten years ago, he retired from the IRS in Houston and brought his first Harley, an '07 Electra Glide Cruiser. "I'd always wanted a Harley, it's one of the best, and it has lots of history behind it," he says.
With his Houston neighbors looking on, Gonzalez took the 1,000-pound machine for a spin, but "dropped" it as he was going too slowly around the corner. Totally embarrassed, he says that first ride "scared the crap out of me," making him wonder what he'd gotten himself into.
When he took a certification training class to get his motorcycle endorsement, he spotted Houston HOG chapter members at a dealership. He joined, then transferred his membership to El Paso when he moved back in 2014.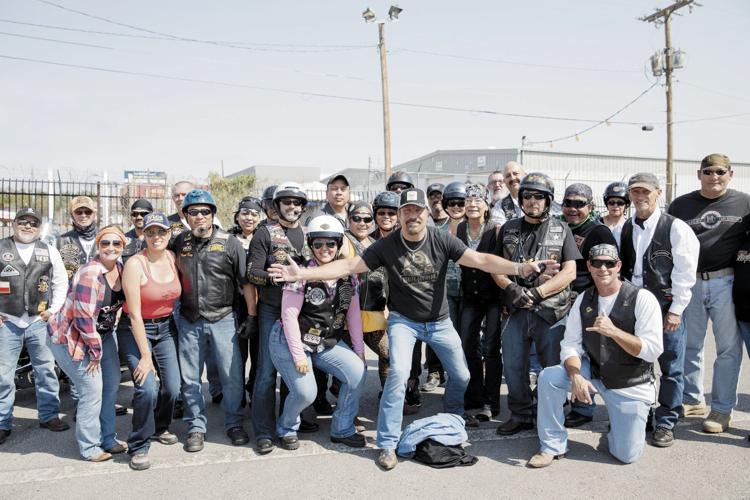 Friendships, helpfulness, resources, rides, social events and the HOG family – that's what Gonzalez likes best about the local HOG Chapter. He's ridden his Harley through 49 states and plans to hit Alaska soon via an eight-week ride from Montana to Canada.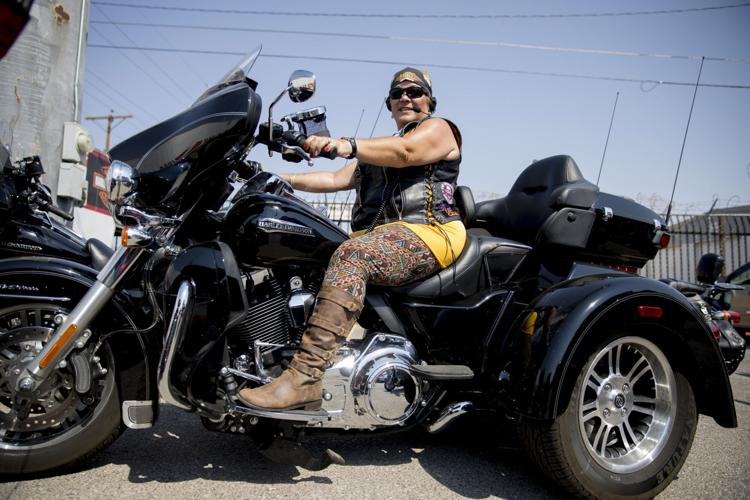 Growing up in Miami, retired cosmetologist Olga Pate had her first motorcycle ride at age 7 aboard an older brother's Kawasaki. "Mom almost killed him," she remembers. Hooked on the freedom and feeling of wind in her face, Pate took "little rides here and there" when Mom wasn't around. After being a passenger on various Harleys since the early 2000s and a longtime admirer of the brand's "sound," the Army veteran got her first Harley in 2011.
She paid $ 6,000 for a used Softail Heritage bike, riding the two-wheeler for a year before replacing it with a three-wheeled Freewheeler she bought for $ 27,000. Last year, she got a $ 34,000 Tri Glide Trike. "Harley-Davidson is a passion," she says.
Pate, who's been an El Paso resident since 2013, was recruited into the local HOG chapter by Tim Cooper. The El Paso chapter has 103 active members, and the Ladies of Harley, called LOH, is one division. To be a Lady of Harley, Pate says, you don't have to own or ride a Harley, but ownership helps. "Sometimes, we're ladylike," Pate laughs. "The best thing about it is being able to represent Harley-Davidson, riding my bike, and being a woman."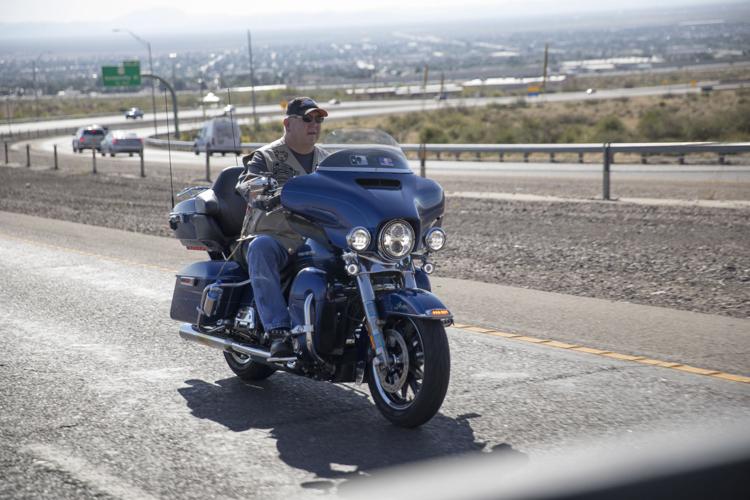 Army veteran Tim Cooper, 50, is a wholesale drug rep who's on the road a lot. He'd ride his Harley for each trip if he could. "I've always loved Harleys," he says. "It's probably in my DNA somewhere." Cooper's first motorcycle ride came at age 10, a gift Honda from his older brother. "I climbed on it and went to town," Cooper says of the thrill and freedom of later buzzing along two-lane country roads. Then came military service and family obligations, but Cooper, who'd ridden friends' Harleys, knew he wanted one someday.
He's owned two, trading in his first one for the 2015 Limited he's had since 2014. Cooper thinks life's extra fine when he's cruising along, listening to classic rock 'n' roll, leaning into a curve, being "one" with his bike.
Sherman Barnett, 82, who has owned Barnett Harley-Davidson in El Paso since 1977, was one of the dealership's 13 original H-D employees. The 45-year veteran of the motorcycle business isn't surprised that people love these bikes. "Harley-Davidsons have always been popular, but probably not as well here before the local HOG group formed," he says, adding that Hollywood and the film industry helped popularize the brand.
Barnett says he's owned hundreds of Harleys, doesn't race them anymore, misses riding them, and now races cars instead. The Barnett family – Sherman, wife Christy and sons Mark and Curt – also runs a H-D dealership in Las Cruces. The dealerships are active in their communities, hosting charity events like fundraisers and blood drives, and offering riding academy courses.
And just what is wind therapy? "You think a lot when you're out on the road," says Gonzalez, a cancer survivor. "When I'm riding, I have no worries, it's mental relaxation. I can hear music and see beautiful scenery – what God put on this earth."