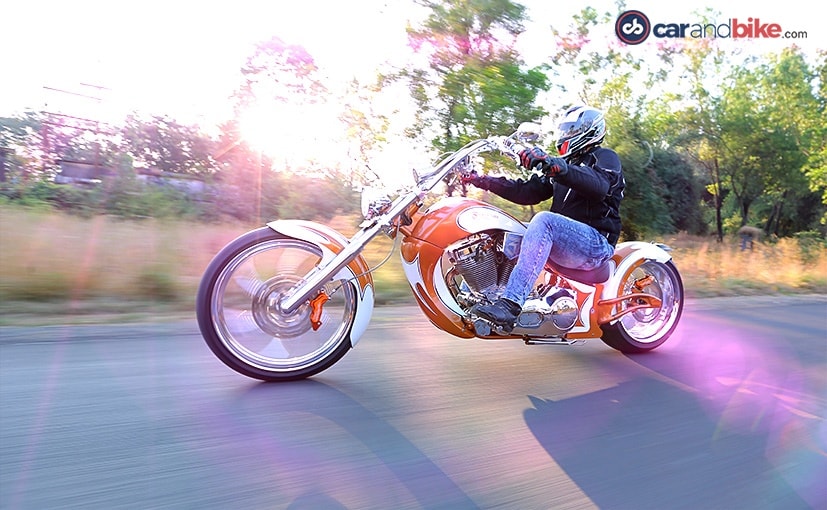 View Photos
We ride the first street-legal India-made choppers – Rudra and Pravega from Avantura
If you've grown in the 2000s as an auto enthusiast, American television really opened you to the world of choppers, cruisers and custom motorcycles. These were outrageous creations that would later be delivered to their respective owners. They were anything but subtle and that's what made American choppers so iconic. Over the years, a lot of custom bike houses in India have tried to replicate these choppers with their own iterations, based on existing production motorcycles. However, as India opens up to more expensive and personalised choice of motorcycles, it is Avantura Choppers that promise to fulfil your American dream. No, this isn't your Royal Enfield engine in a new body shell, but a new Indian bike manufacturer that intends to take on the Harleys and Indians of the world. The young company is building authentic American choppers in India and got a spin in its newest creations.
The Rudra and Pravega from Avantura share the same underpinnings but differ largely in design. The Rudra is closer to home when it comes to the authentic chopper design and equally intimidating as well. The wheelbase at 2180 mm is glaringly long and the massive front wheel and fat rear wheel are anything but subtle. The length stands at 2908 mm, which is as long as an entry-level car, thanks to the massive rake of 38-degrees. The Rudra stands out between the two offerings and certainly packs an appearance on the road.
Both bikes are mammoth sized and we say with absolute subtlety, and it takes a massive 2000 cc V-Twin engine to propel these motorcycles. Hit the start button and a growling thump welcomes you. It will intimidate you and question what you exactly signed up for. The specifications remain the same with the S&S sourced, air-cooled engine serving purpose. It is actually one of the biggest motorcycle engines you will find in India, smaller than the 2300 cc motor on the Triumph Rocket III. A large amount of torque is available from as low as 1000 rpm and the bike is roaring to go with even the slightest input. The short-stroke engine allows for ample of surge all the way up to 5000 rpm with a little more juice left. You could cruise easily between 130-140 kmph without feeling any fatigue.
While we didn't get a chance to really see what the engine is capable of, we did get a glimpse of what it feels like. Like any other air-cooled motor, the S&S is also susceptible to heating which is common for our weather conditions. But the motor does not really feel hot if you are constantly on the move. The bikes use a 6-speed transmission sourced from Rivera, USA and the unit has been calibrated decently to the engine. The clutch remains heavy, which is expected of a bike this size and a slipper clutch would certainly be helpful. We did incur a few false neutrals through the ride though and Avantura has promised to look into it.
We started our ride with the Rudra and with a kerb weight of 344 kg; the bike is a task to get used to. You sit low with a height of 574 mm, and manoeuvring does take some effort at a standstill. However, 15 minutes on the saddle and we quite liked how the bike felt. Surprisingly, the Rudra feels extremely accommodating and even with the low-slung stance, it's a hoot to ride. The chopper is surprisingly quick around corners and leans sans any drama. Obviously, you cannot go all foot-peg scraping but it's definitely fun on the move.
(The Avantura Pravega is a proper mile muncher and gets a more conventional riding stance)
It's a similar case with the Pravega, which sits heavier at 347 kg. However, we did feel the bike is more established for touring. The rake angle is lower at about 34-degrees, and feels more convenient to ride. You sit tall with a good view of what's ahead and we do think it would make for a nice mile muncher, especially with a larger fuel tank of 21 litres over the Rudra's 17 litre unit.
The conceptualization for Avantura Choppers started seven years ago, while its two motorcycles – Rudra and Pravega – were worked up from the drawing board two years ago. The company has tied up with American Chopper veteran Kevin Alsop (former owner of Big Bear Chopper). Kevin now works as the Chief Designer at Avantura. He's a veteran in building custom motorcycles and was the brains behind the design of Rudra and Pravega. Both motorcycles are absolutely stunning to look at and offer every ounce of novelty that you would expect from such a creation.
The company has tied up with OEMs from across the globe for sourcing components and operates out of a facility near Mumbai, where the motorcycles are partially manufactured and assembled. The bikes have been worked upon to meet Indian conditions and are in the process of receiving the certification from ARAI as well.
The chassis has also been designed by Kevin Alsop, but is manufactured in India along with the handlebars, alloy wheels and other CNC components. Both bikes use the same chassis and cycle parts, while it is only in design that they differ. Both bikes use an all LED headlamp with a circular O-ring for the DRL. The setup looks lovely and is imported from a company in Taiwan. The supplier is the same that provides lighting solutions to Indian Motorcycle, we are told. The turn indicators are all-LED too and are sourced from Kellerman, Germany. The instrument console is rather simple with an analog tachometer and a digital display for the speed, clock and odometer. The leather seat is imported from the American company Mustang and has been cushioned in order to adapt to Indian road conditions.
For the latest auto news and reviews, follow CarAndBike on Twitter, Facebook, and subscribe to our YouTube channel.