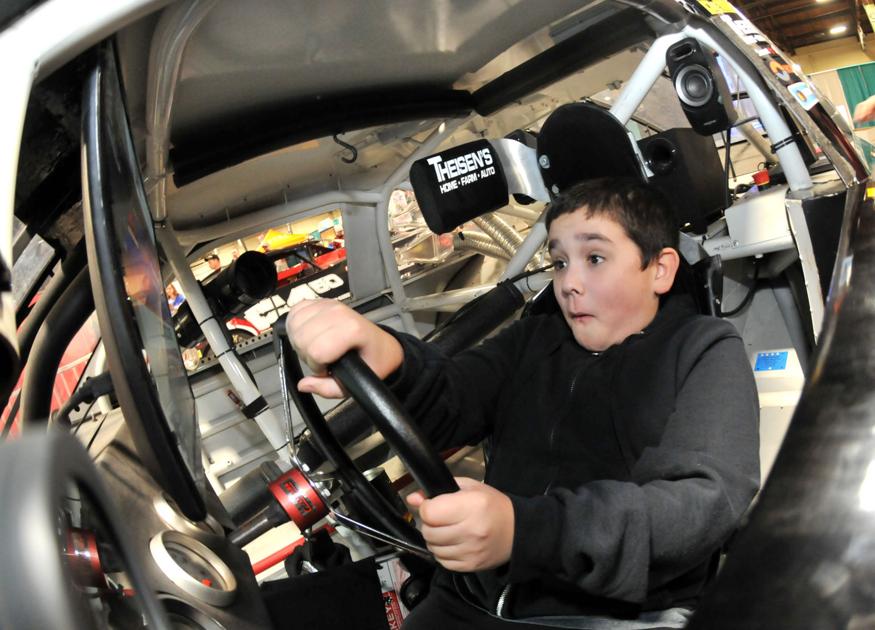 ROCK ISLAND — Doug Burwinkel was unexpectedly floored Sunday, after he went from being a vendor at the Wieblers Man Show in the QCCA Expo Center, to one of its biggest winners.
The 26-year-old Harley-Davidson fan (who owns a Suzuki 600cc bike) works for his father Steve, who owns Traditional Floors in Milan — one of 60-plus vendors at the second-annual show, billed as the Q-C's biggest man cave.
Using $ 20 his father bet him for sinking a putt earlier in the day, Doug bought a raffle ticket from Dreamscape Dustless Media Blasting, in Davenport, which was giving away a 2001 Harley Roadster, bought by Dreamscape from Wieblers. It was completely restored and refinished in bright blue and silver, by Jackson Auto Body and Crusader Coating & Arms, and reassembled by Wieblers (valued at over $ 12,000).
Mr. Burwinkel got his ticket 10 minutes before the drawing, toward the end of the afternoon Sunday, and won. "I'm a lucky guy," he said. "I couldn't believe it. … This thing is sweet; I'm impressed."
"I never win anything, so I didn't think I had a chance," he said.
The raffle proceeds went to the Juvenile Diabetes Research Foundation, and its Davenport-based chapter. Jason Lindstrom, a correctional officer who lives in Orion, came with his family to the Man Show to sell tickets and promote the cause.
The father of two children with type 1 diabetes, Mr. Lindstrom lost his 11-year-old son, Justin, to the disease three years ago. His daughter Patricia is 11 now, diagnosed when she was 4. "It's an everyday part of our lives," he said. "There was no history of it in our families at all."
"I do everything I can to raise money for JDRF," he said, noting he's raised about $ 10,000 over nine years. Also a Harley fan, Mr. Lindstrom owns a Harley soft-tail deluxe. "I'm thinking about trading in, in a couple years," he said. "If I win the (restored) bike today, I'm gonna re-raffle it. I've got one; I'm good. It's a fantastic bike, a beautiful bike."
"It makes my heart swell to see people's generosity — to see all the work put into the bike, to see Wieblers step up, it means a lot to me," he said of the raffle.
Vehicles of many kinds filled the Expo Center — including motorcycles, RVs, trucks, Mustangs, Toyotas, military vehicles, a NASCAR simulator and another high-speed sports car that rocked in place as patrons took turns navigating high speeds on a video screen.
"You see why I don't let her drive," Bruce Butler, of Davenport, joked about his friend, Joann, as she tried out the bumpy car ride. Later on, Kendal Britton, of Galesburg, enjoyed watching his son and grandson take turns in the car. At the show, he also said he got some ideas for potential Christmas gifts for himself.
Vendors included everything from home entertainment, home improvement, gun dealers, and auto parts, to Big Brothers Big Sisters, River Bandits, Rhythm City Casino, and Thunder Road Hobbies.
Raya Harvill, integrated digital specialist for WHBF Local 4 (another main show sponsor) said while the weekend was geared to guys, there were activities for the whole family, including feats of strength, throwing a fastball, making a putt, martial arts, and remote-controlled toy trucks and cars.
"We are trying to keep it family friendly — to get kids, families, everyone through the door," Ms. Harvill said.
New this year was a Wieblers Harley-Davidson Man Cave giveaway of $ 8,000 worth of prizes (including a 55-inch 4K flat-screen TV, mini-fridge, pool table, grill and charcoal smoker, couch, beer glasses, and video game console), that went to Greg Rusk, of Geneseo.
The weekend also included a pinup contest, a police tazing demonstration, and Hooters wing-eating contest. Sunday featured a Famous Dave's rib-eating contest. Those contests were free — the winner of the first got 50 free wings, and the second got a gift card for Famous Dave's and a bottle of sauce, Ms. Harvill said.
Sean Kessel, a sales account executive for WHBF, won the rib-eating contest, tearing through a full rack (12) in six minutes. He was among eight guys who chowed down.
"I love ribs. Famous Dave's has a good rub on it; I like 'em. I like the seasoning on them. Very savory," Mr. Kessel said. "I can smash a lot of ribs. My uncle (who lives in Arizona) and I will send pictures of ribs back and forth and taunt each other. I'm serious."
"I'm gonna send him a picture of this, and say, 'I'm still the best,' " he said, noting he learned to eat fast while driving a truck for Budweiser for two years. Mr. Kessel said the key to eating fast is: "Breathe through your nose and drink water."
He didn't do Saturday's wing contest, but said he can eat those faster. "I had good eating contests when I was in a fraternity in college."
Custom Whips and Car Audio of Moline gave away a remote car start, and discounts on equipment.
"It's pretty good," owner Duan Kerr said of his company's first time at the show. "I think it'd be good to see some cooler stuff here too, like fishing and hunting equipment."
"It's nice to see what's available here, to have different things under one roof," said Greg Nelson,,of Camanche, who was wearing a Harley T-shirt, holding a beer.
For Veterans Day, the show offered free admission Friday for veterans and active military. The Mexican-American Veterans Association did the color guard Friday; the Marine color guard was Saturday, and Sunday the Moline High band played the national anthem, Ms. Harvill said. All WHBF staff wore black-and-white camo-style shirts.