American Flat Track racing came to life on the blisteringly fast board tracks (known as Motodromes) and dusty horse racing circuits of the early 1900s where towns such as Dodge City, Kansas, Langhorne, Pennsylvania and Fresno, California, played host to "Class A" national events. In 1932, the AMA rechristened the division as Class C and for the next 20 years, the AMA Grand National Championship came down to a one-day race called the Springfield Mile, a brawl fought out on a blindingly quick, 130-mile-per-hour circuit situated inside the Illinois State Fairgrounds. During that period, two American motorcycle manufacturers—Harley-Davidson of Milwaukee, Wisconsin, and Indian of Springfield, Massachusetts—went to war, throwing everything they had at winning the Springfield Mile.
From 1947 through 1950, Harley-Davidson held sway, but beginning in 1951, a trio of factory-backed Indian racers wrested the sport from its bitter rivals in Wisconsin. Dubbed the Wrecking Crew, riders Bobby Hill, Bill Tuman, and Ernie Beckman ruled the sport with an American iron fist. Hill, of Ohio, and his 44.72 cubic inch V-twin Indian Scout won the title in both 1951 and 1952, and then the Illinois-based Tuman snagged it in 1953. The boys back in Milwaukee were pissed, for not only had Indian kicked their asses, but Indian had managed to go out of business while doing it! Besieged by poor product planning, debt, and ultimately bankruptcy, that September, and almost immediately after Tuman's victory lap, Indian shut its doors. As far as AMA Flat Track motorcycle racing went, nobody would hear from the once proud brand for another 63 years.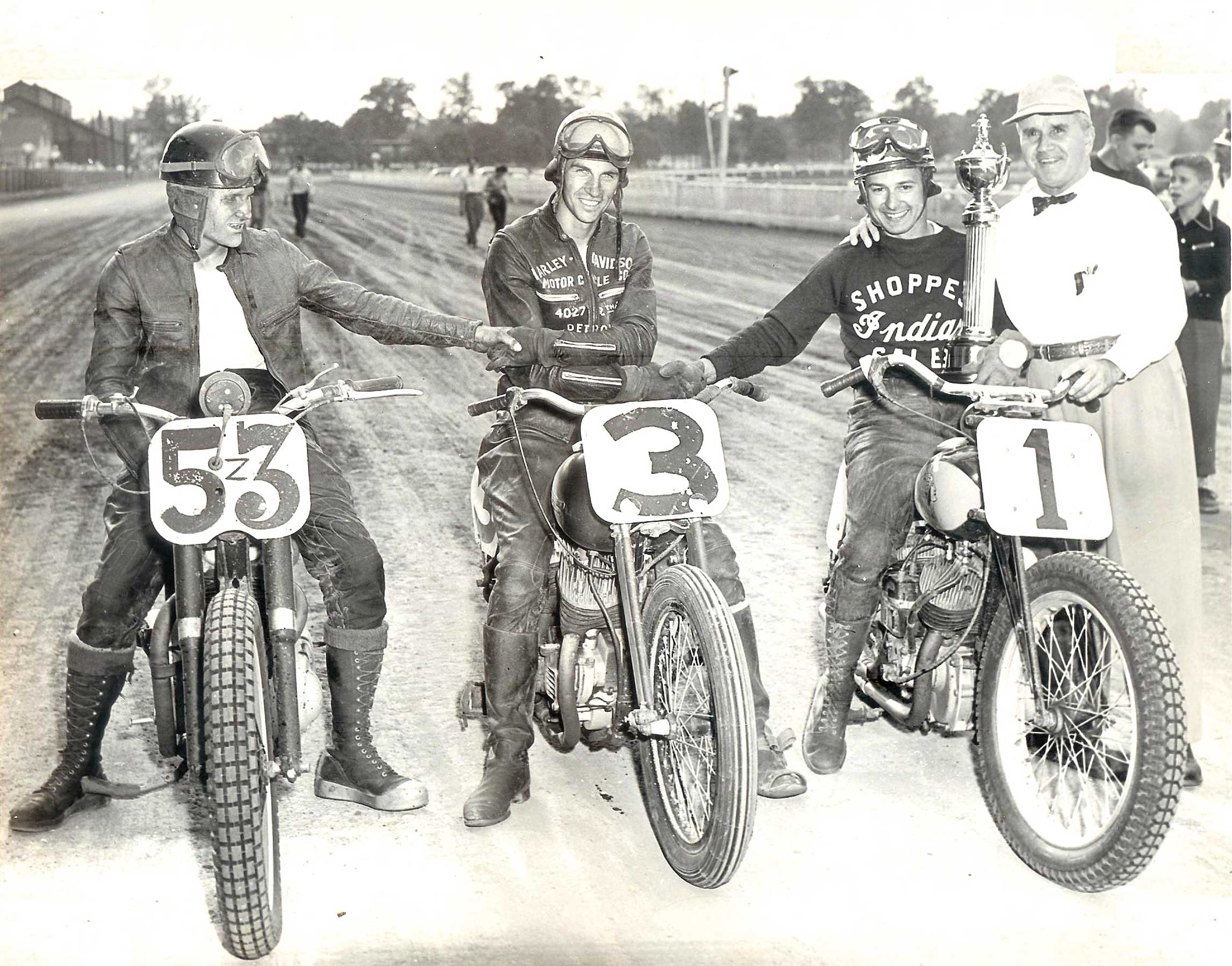 Then came the announcement from Indian Motorcycles during the summer of 2016:
Indian Motorcycle, America's first motorcycle company (circa 1901), is proud to announce its re-entry into the AMA Pro Flat Track series with its full-factory racing effort since the 1950s.
Indian Motorcycle, after several failed restarts with new investors and owners, now had a real shot at a lasting revival, because it had been purchased and brought back to life by Polaris Industries in 2011. Polaris has since shuttered its Victory line of Harley fighters, and switched all efforts to Indian. And those efforts included, yes, a reentry to AMA Grand National racing (now called American Flat Track, or AFT). The corporate/racing mission of the Indian trio: To seek out and destroy arch-enemy Harley-Davidson.
Quickly, Indian opened the war chest and built a new Wrecking Crew—the three-rider gang of Bryan Smith, Jared Mees, and Brad Baker. As one industry pundit explained, it's the equivalent of one team hiring Ryan Dungey, Ken Roczen, and Eli Tomac for 2017.
This Wrecking Crew has indeed wrecked everyone so far, as the trio and their new Indian Scout has dominated the races, winning all but one event thus far in 2017, with Smith and Mees repeatedly trading the points lead. Meanwhile, Brad "The Bullet" Baker is looking for his chance to shine against his older, more experienced teammates. The 2013 AMA Pro Flat Track Expert Grand National Champion and a perennial race-winning front runner, Baker was lured away from longtime benefactor Harley-Davidson to race an Indian Scout FTR750 in the 2017 American Flat Track series. He's been so close to grabbing a win this season, but he's had some rotten luck with a crash and a mechanical failure leading to two DNFs, hurting his title chances.
Tonight represents the chance to make his mark. X Games' Harley-Davidson Moto X Flat Track takes place tonight in Minneapolis. Could this be Baker's chance?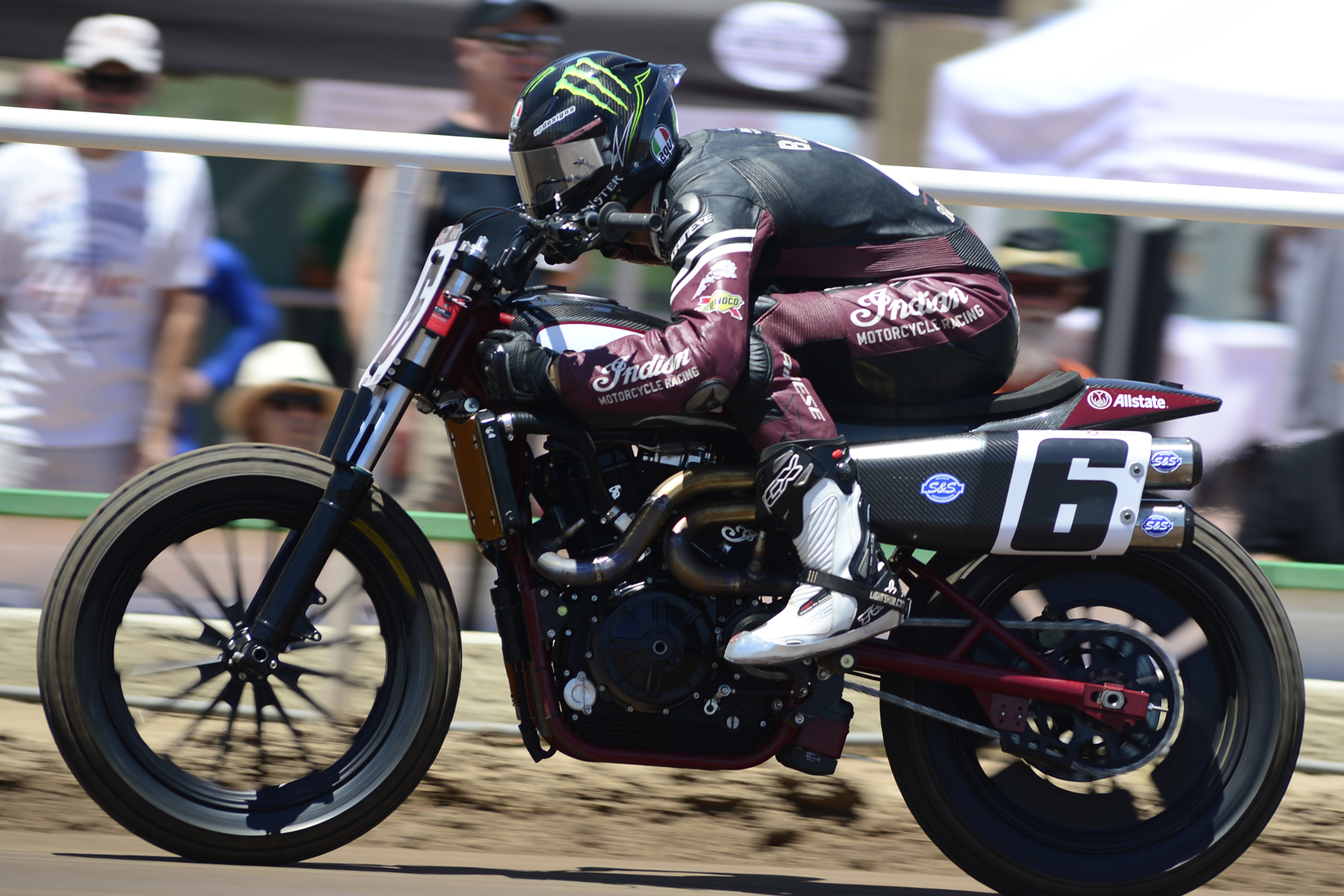 "It's my first year with Indian and it's their first year of having a full factory effort since 1951, so it's been really cool to be a part of the resurgence," enthused Baker, who won the very last race he ran for Harley-Davidson last December at the Santa Rosa Mile. "I have and awesome team with a great group of guys, Bryan Smith is my teammate and he's a former gold medalist at the X Games and is now the defending Grand National Champion from last year. I have an awesome teammate in him. The ambiance of the team has been really cool, and Indian developed a really great purpose-built race bike this last year and the thing has been nothing short of spectacular in its first season. It's been great."
Ten races into the 20-race American Flat Track series, Baker sits third in overall points.
"I haven't gotten a win yet, but I've had seven podiums and I'm third in the championship," he continued. "I had a bad luck deal at the beginning of the year. I crashed at Daytona in a heat race and another rider was behind me and ran right over my head and gave me a concussion, so the beginning of my year didn't start of all that well. I came back for the second round and got second. In the third round, I was leading the thing and was going great and had a small mechanical failure. I had a DNF from that. If it wasn't for the crash and the one DNF because of the mechanical, I'd be right there in the championship hunt. Now I've been trying to claw my way back in."
Indian's arrowheads are honed razor sharp, and continuing on with its seek and destroy mission, heading into last Saturday night's Rolling Wheel Half-Mile in Elbridge, New York, the Wrecking Crew had pulled together eight Grand National victories and 22 of the season's 27 available total podiums. Before an oversold crowd the Empire State, Meese dominated to win, while Baker flashed across the finish line in third.
Next stop: Thursday night and the Mall of America in Minneapolis, Minnesota. For it will be there that the Indian Wrecking Crew will line up for the 2017 X Games Harley-Davidson Flat Track Racing main event. The third consecutive running of the Harley-Davidson-sponsored Flat Track competition, Mees (2016 gold medalist), Smith (2015 gold medalist) and Baker (two-time bronze medalist), will all take to the somewhat abbreviated circuit to try and commit another act of revenge on Harley-Davidson.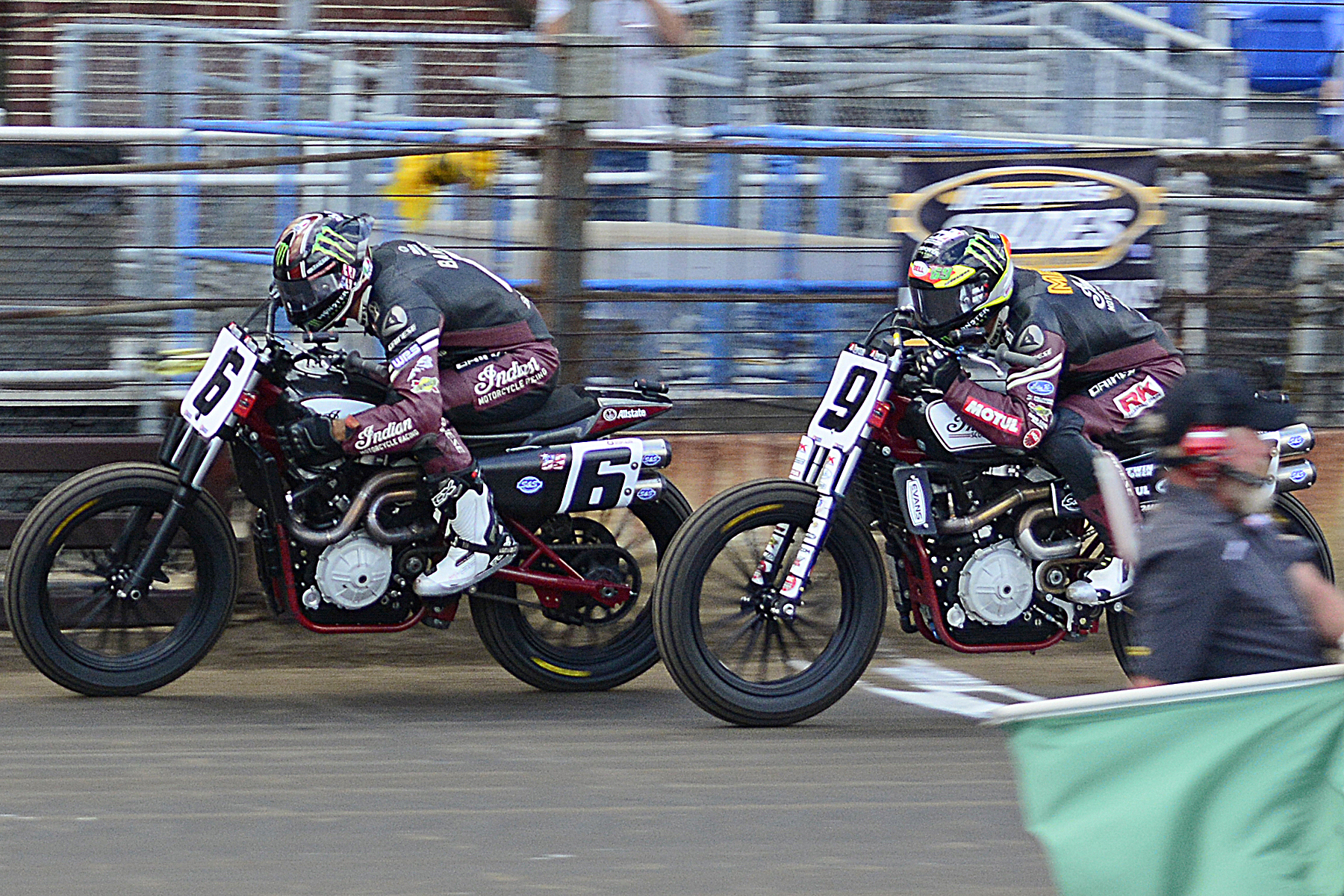 "It's declared a short track," explained Baker. "It's not very big. I'd call it a quarter-mile track. It's about as wide as it is long. It appears that it will be similar to the Daytona short track, but a little bit wider. It's a pretty small track for riding these size motorcycles, so it'll be interesting."
As far as the speeds the 100-horsepower 750cc V-Twin motivated Indians will top out at?
"If we have a solid surface, we'll be hauling ass around there," answered Baker. "I'd say top end will be 75 to 80 miles per hour."
To give you an idea, the Daytona TT track, which Baker believes is similar in size to tonight's X Games track, fit into the same footprint as the Daytona Supercross. Eighty miles per hour is darned fast in those confines. At the big mile tracks, the AFT bikes routinely hit 130 MPH.
And the 24-year-old native of Centralia, Washington, has high expectations heading into Minneapolis, as fate would have it, the hometown of Indian Motorcycle Racing. Polaris is a Minneapolis-based company.
"I've had two bronze medals in the two years that we've done it," offered Baker. "I'm the only rider that has finished in a medal position in both years. I can't really complain about that. Obviously, every time we go to a race, we go to win, and in this case we're going for gold and anything below that is not exactly meeting your goals. Still, placing with a medal has been good.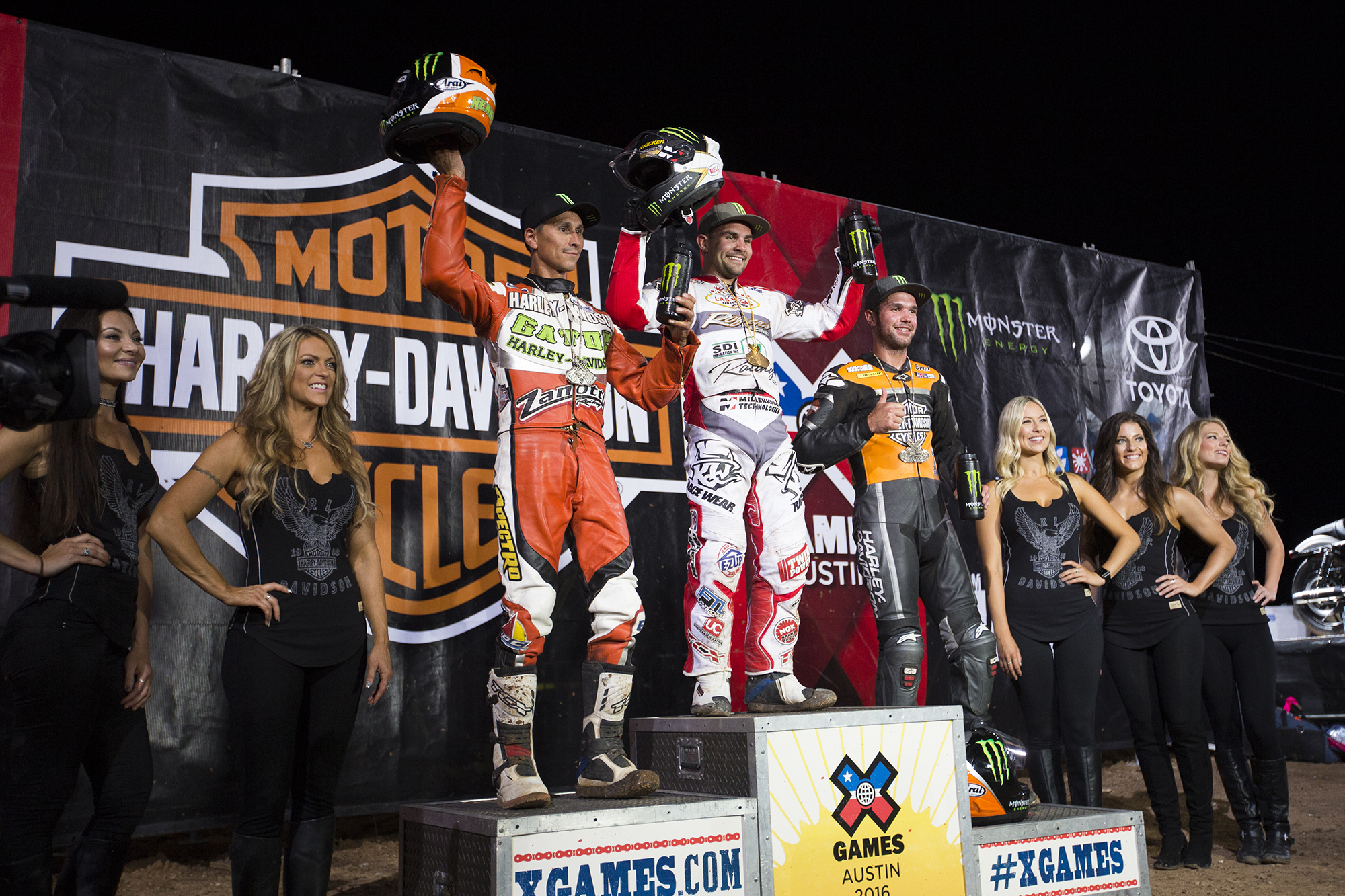 "The overall experience at the X Games has been awesome," he furthered. "Being able to be showcased with many different athletes, not just motorsports athletes, has been really cool. And with it being on ESPN and the amount of followers the X Games brings, has been amazing. It's been really cool to be in front of that crowd."
And so what goes around comes around as a 100-year rivalry between two waring American motorcycle manufacturers is about to play itself out on live ESPN TV in primetime. One more log on the fire? Three years ago, it was Harley-Davidson that came to ESPN in hopes of putting flat track—and hence, its race-winning motorcycles—into the X Games. H-D had a goal of promoting its machines and technology in front of a new audience. Suddenly, there's now the possibility that Harley got Flat Track into the X Games just to ultimately serve as a giant win-ad for the revived Indian brand. You know they don't want an Indian to win. Certainly rings of must see TV.